Adopt a penguin - name YOUR penguin
- as seen on BBC TV and Animal Planet
- praised by the British government &nbsp &nbsp

&nbsp &nbsp &nbsp

.
&nbsp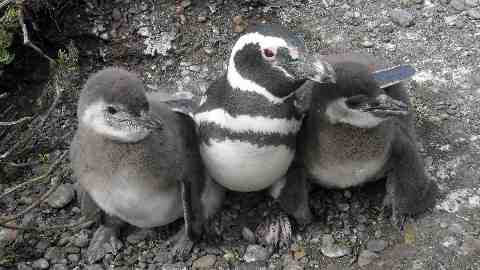 &nbsp &nbsp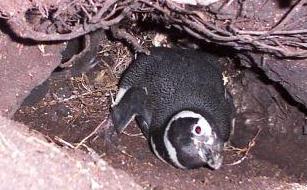 &nbsp &nbsp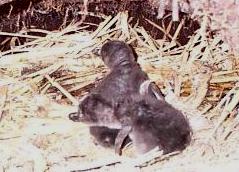 adopt a penguin - choose its name - the perfect gift for any animal lover
- We are the ONLY genuine penguin adoption giving you your own penguin
- No 'symbolic' adoptions here - you adopt your very own penguin.
Your payment helps to save wild penguins.
Click "Adopt a Penguin" to make your purchase
Our work to save penguins has been acclaimed by the British government, BBC TV, Animal Planet, and other TV documentaries around the world. You can view TV documentaries featuring our work on YouTube in (ENGLISH), (GERMAN), and (SPANISH). We featured in BBC TV's highly acclaimed series "EXPLORE: Patagonia to the Pampas".
We began our adoption program in 1997 to study and protect penguins. We are the only genuine penguin adoption program giving you your very own penguin, which you get to name. You even get a map showing where your penguin lives in case you want to come and visit your penguin.
Since we began our penguin adoption we have had a lot of imitators, but when you do a Google search on "Penguin Research Publications" to see where that adoption money goes, ours are virtually the only ones to be found.
INTERNATIONAL ACCLAIM
Our penguin adoption program funds all of our work, and has received international acclaim from the British government. Our campaign to protect Falklands penguins from over-fishing and oil pollution brought us into conflict with the Falkland Islands Government, which led to an historic court case in the Supreme Court (Read about our Supreme Court victory).
The British government then helped us to establish our penguin adoption program, in order to provide long-term independent funding for our work. Being funded by thousands of individuals around the world adopting penguins, gives us freedom to protect penguins without political and economical intimidation.
You can read press reports of our work to save Falklands penguins, and the campaign of harassment against us, in newspaper articles published in The Daily Post, The Sunday Independent, The Observer, The Sunday Times, The Guardian, The Mail on Sunday, Index on Censorship and Birdwatch Magazine. Our work also featured on TV in the BBC2 series Explore: Patagonia to the Pampas (www.bbc.co.uk/programmes/b00hcgtq), in a series of three documentaries shown on Discovery Channel's Animal Planet (PARAMOUNT PICTURES) and on Germany's Mare TV (Mare TV - Feb 2006).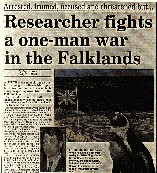 &nbsp &nbsp &nbsp &nbsp &nbsp &nbsp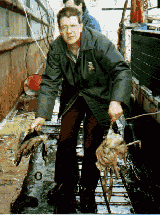 &nbsp &nbsp &nbsp &nbsp &nbsp &nbsp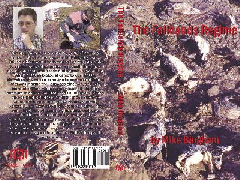 HOW YOU CAN HELP
There are three ways you can help support our work to save penguins.
1. Adopt one of our penguins with our ADOPT-A-PENGUIN program.
2. Purchase our book Penguins of the Falkland Islands and South America for immediate download at $3.95, or for delivery as a paperback at $10.95.
3. Purchase our book The FALKLANDS REGIME, which accounts Bingham's heroic struggle to protect penguins in the Falklands, despite government harrassment and death threats, which led to Bingham's historic Supreme Court victory for Human Rights Abuse. (Paperback $18.75, ISBN: 1420813757).
TV documentaries about our work shown on Animal Planet
TV documentaries about our work in German and Spanish

---

Web site by Dr Mike Bingham . . . .